Pet Washing Stations: Providing a Needed Service and Making Money
Who doesn't know someone who owns a pet? It's a billion dollar industry, with most people considering their animals "part of the family". We've about tapped the market with designer clothes for pets, gourmet treats and even all-natural foods. However, the one area that has been neglected, leaving pet owners to scratch their heads, is bathing.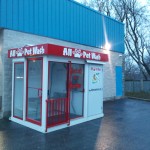 Sure, there are groomers and pampered pet spas where you can take your pet, but for a hefty price. But what about for the rest of us? As a pet owner, do you have to suffer through the torment of bathing your pet at home or pay groomer fees to keep him clean and happy? Not when there's a third, even more convenient option.
Pet washing systems give dog and cat owners a third alternative, one that is safe, easy, convenient and you guessed it … cheap. The fact is, with the economy in less than stellar shape, folks simply can't afford the expense of paying someone to do what they can do themselves. And that is exactly why self serve pet wash systems are experiencing such a boom in popularity. Simply put, self serve dog washing stations offer convenience … at a price we all can afford.
What's Involved?
You may be considering a commercial dog wash station as an investment opportunity but you're not sure where to begin or even what's involved. This is the best part. Because pet washing stations are moveable vending stations, they're considered vending machines. What does this mean for you, the investor? Simplicity. In most cases, there are no building permits necessary and no hassles for you.
Setting up your very own coin operated dog wash station couldn't be any easier. Simply purchase the desired model and hook it up. It's really that easy. Every model comes fully assembled and ready to be placed on a flat surface. All you need to organize ahead of time is choosing a location and ensuring there are appropriate utility hookups (drain, water and electricity).
Starting a business has never been so simple. With fully equipped dog bathing systems you can feel good about providing a necessary service to the community by offering an alternative to the costly groomer and make a few dollars doing it.